Chicken Coops & Hen Houses
Chicken Coops For Sale A Variety of Sizes
Sun Hill Barns is an chicken coop and horse barn builder that has had more than 15 years in the business, perfecting their craft so that area farmers and beyond can reap the benefits of our experience and craftsmanship. In those 15 years, Sun Hill Barns has constructed chicken coops for sale of all sizes and shapes, to fit every budget and every sized chicken ranch. We take pride in the fact that every one of the chicken coops we've built has been an expression of genuine Amish skill and attention to detail.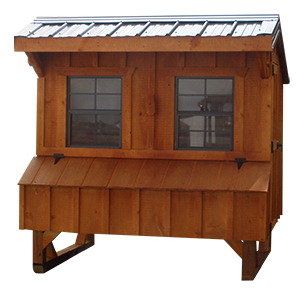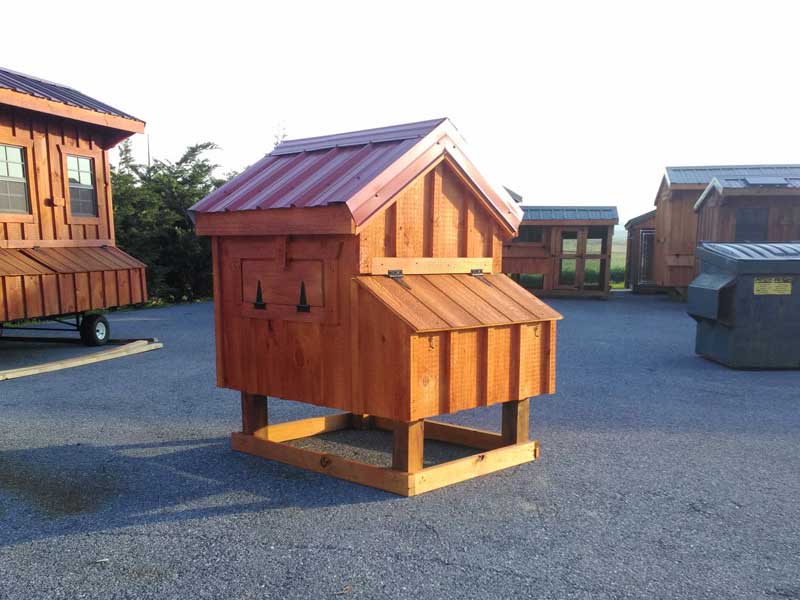 Small Chicken Coop
Holds 3-5 chickens
3x4 A-Frame Chicken Coop
52" High/12" Off Ground
3 Chicken Nesting Boxes
Cedar Stain
Popular Metal Colors are Green, Antique Bronze and Red
Get Your Small Chicken Coop Today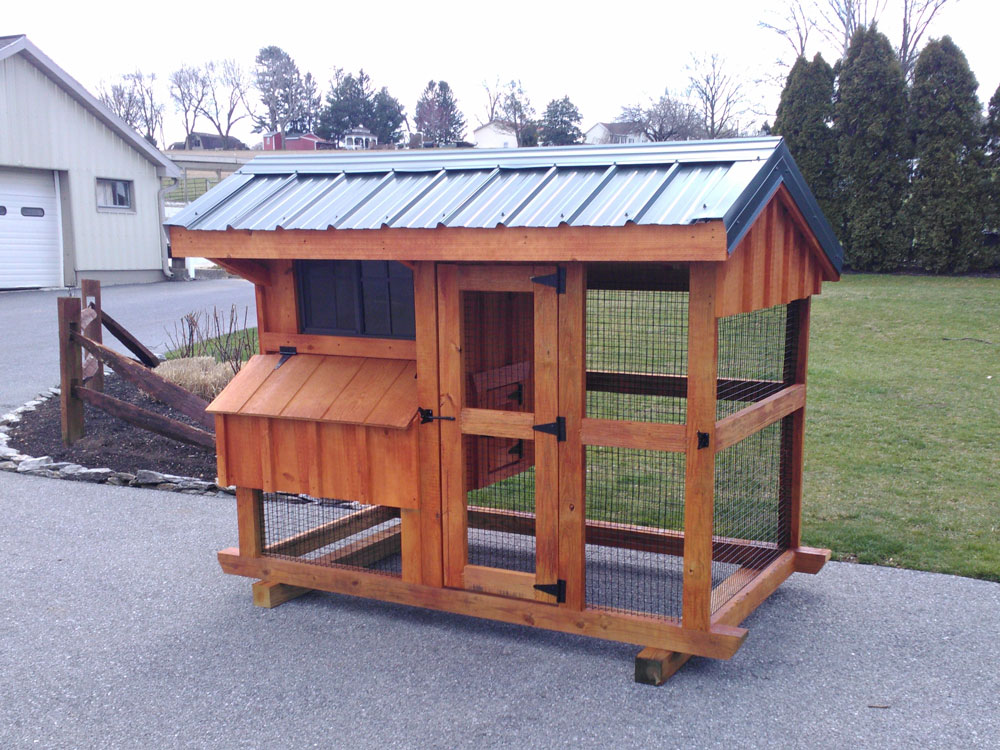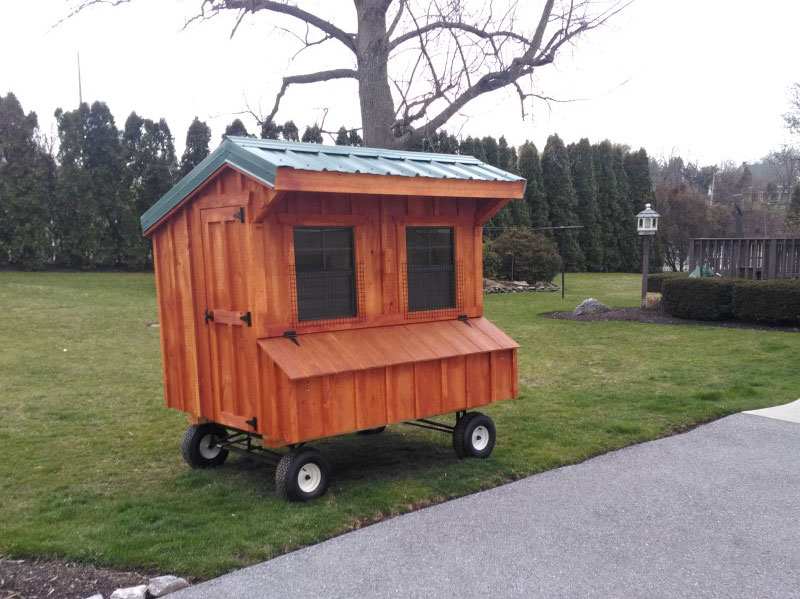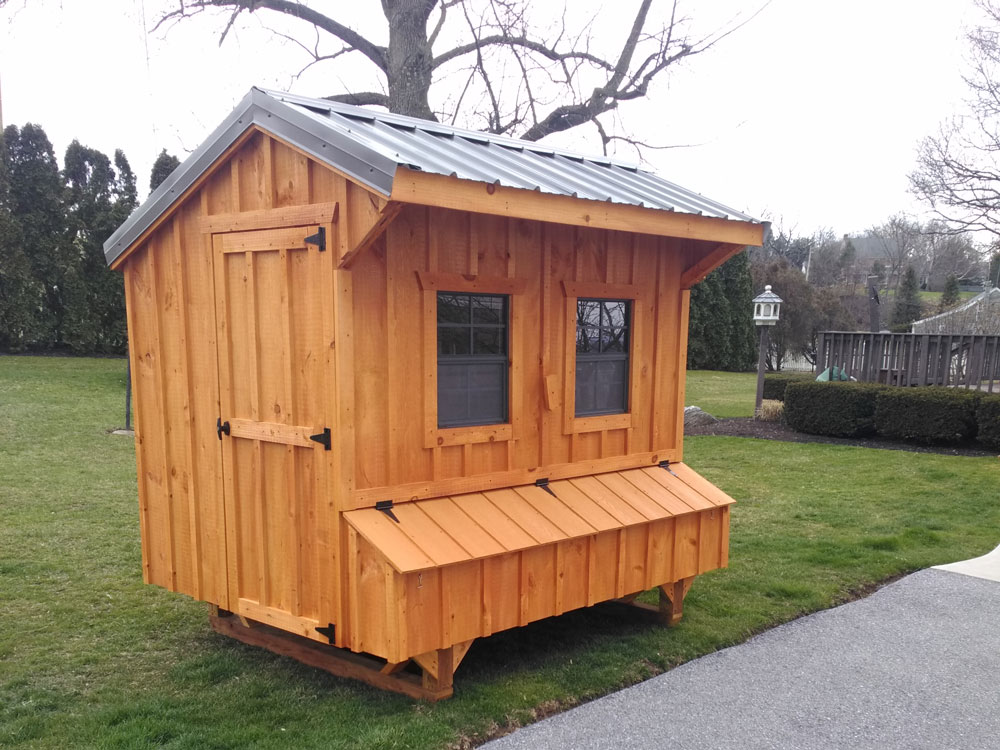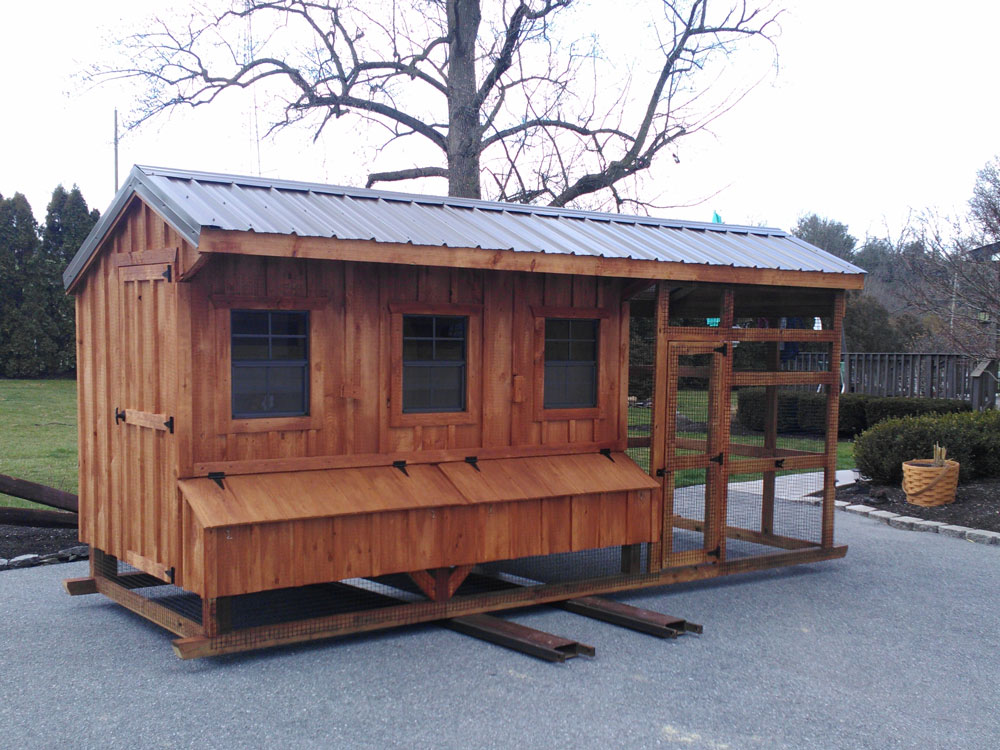 Mobile Chicken Coop
Holds 30-40 chickens
6x13 Chicken Coop w/ Wheels
94" High/8" Off Ground
10 Chicken Nesting Boxes with 3ft storage area
4 WHeels with Handle
Cedar Stain
Keep Moving With Our Mobile Chicken Coop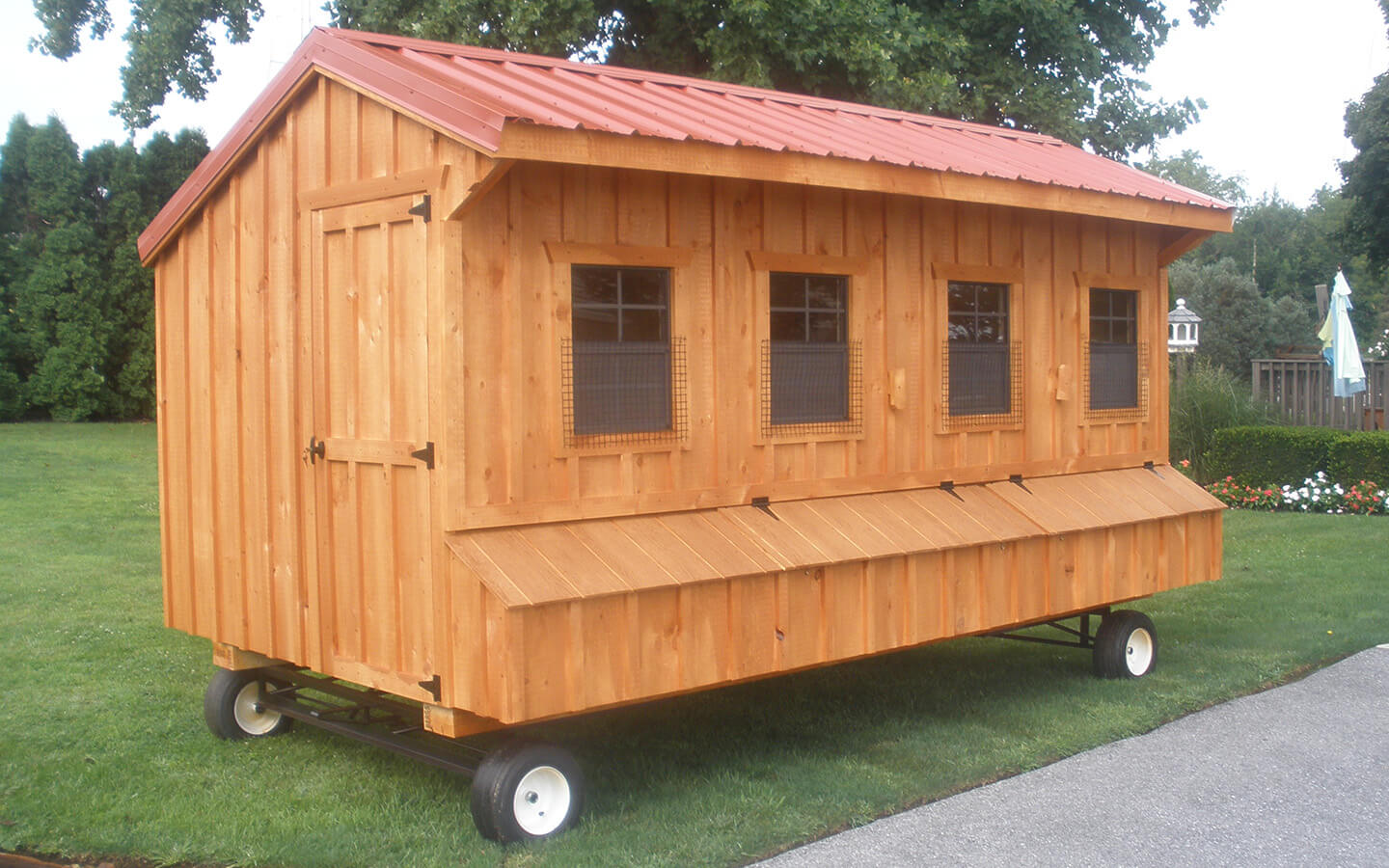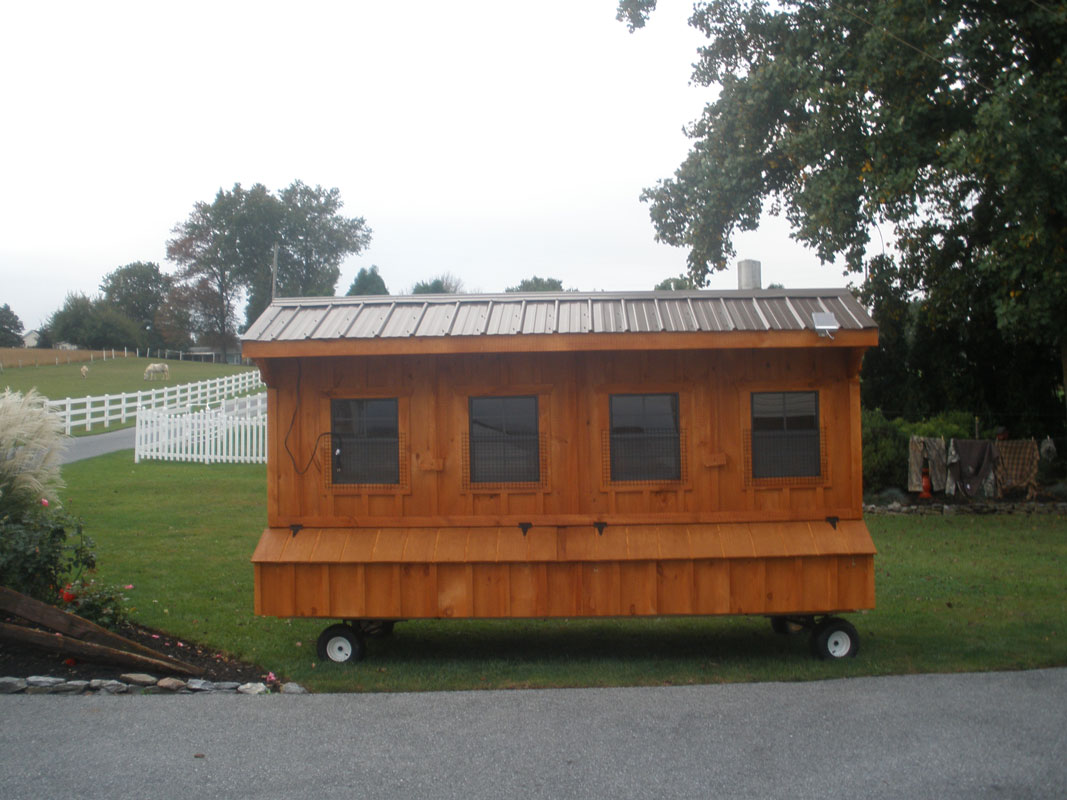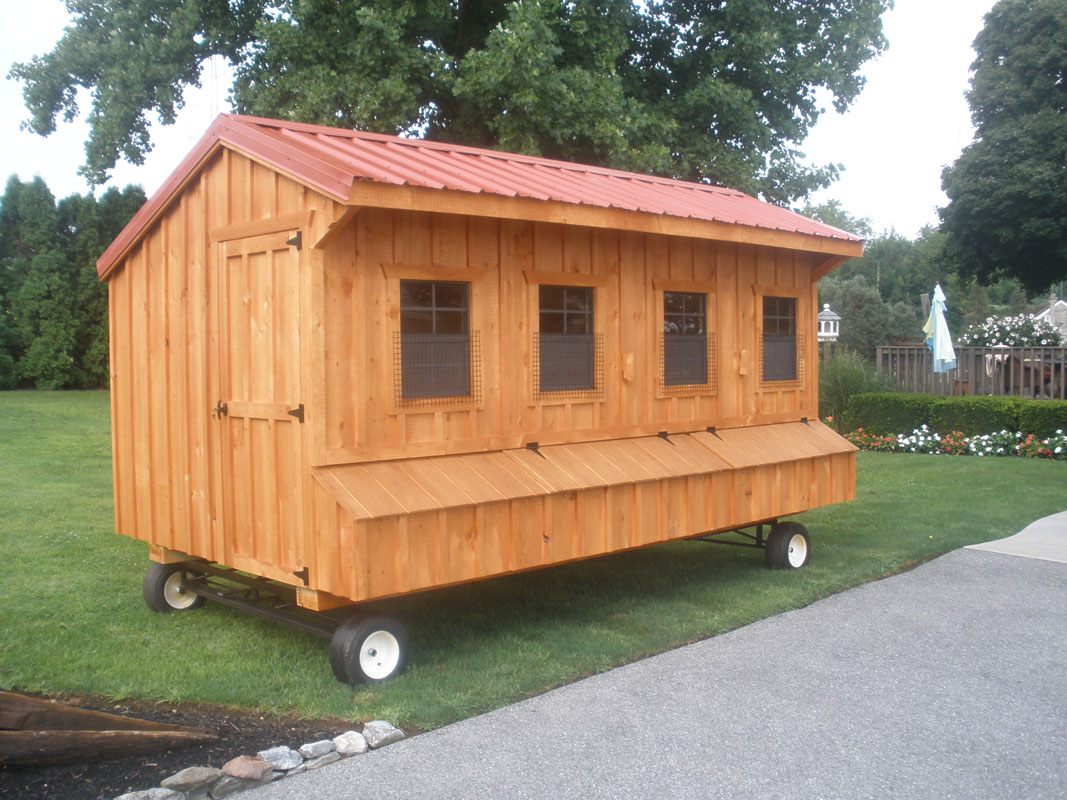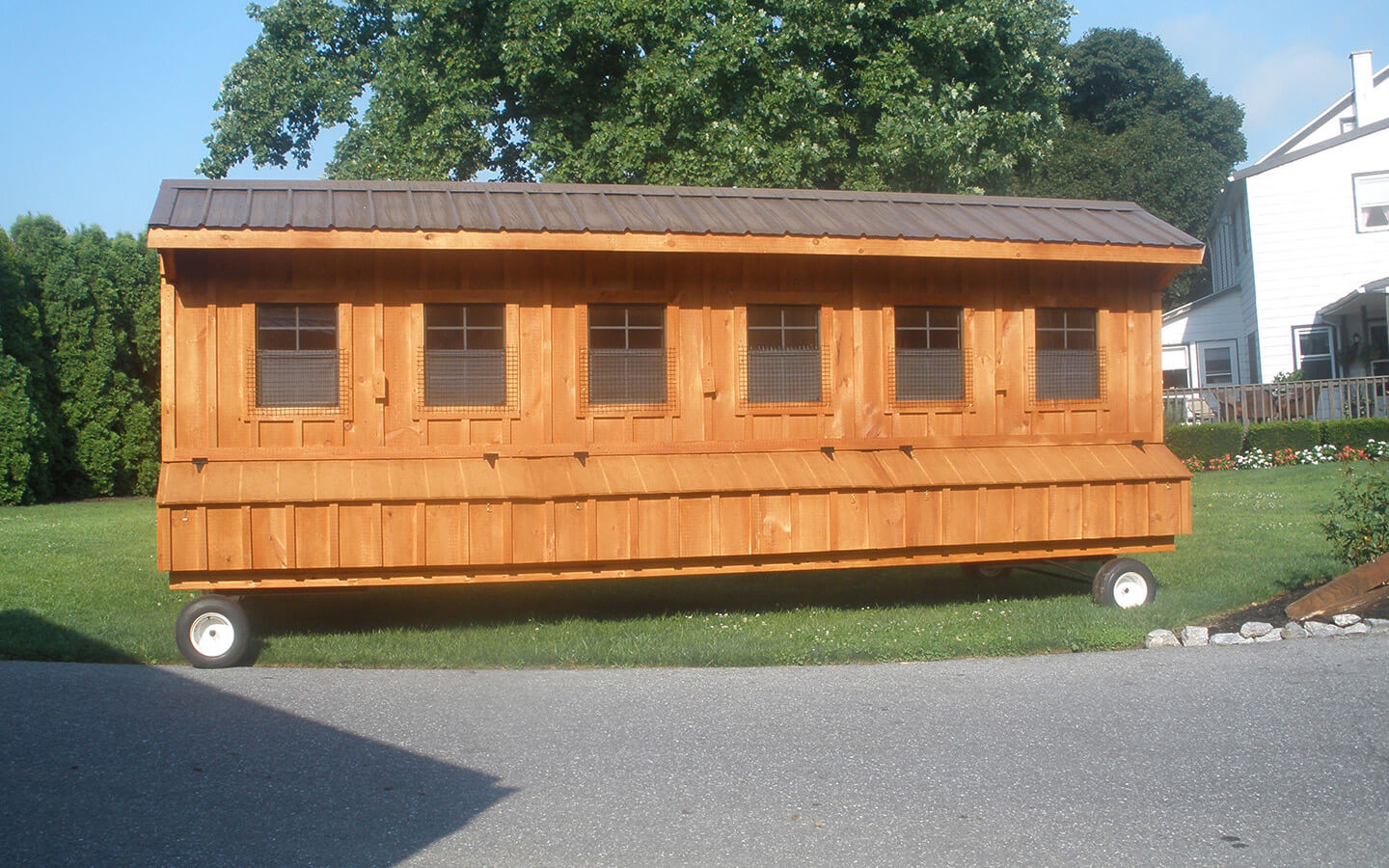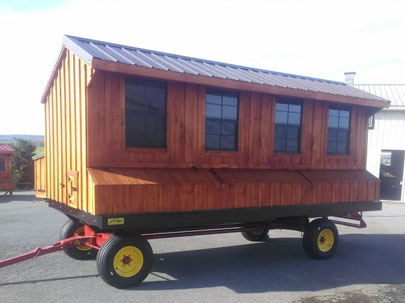 Chicken Coop Designs & Features:
Keyed Entry Door
Chicken Door with Latches & Ramps
Chicken Nesting Boxes
Roast Bars
Slider Windows with Screen
Shingled Roof with Tech Shield or Metal with Dubble Bubble Insulation
Pine Board & Batten Siding
Natural Cedar or Rustic Cedar Stain
Chicken Coop Options:
Wire Over Window
Electrical Package

One Socket in Ceiling
Switch and receptacle on side wall
Chicken Run & House Features
So what makes Amish built hen houses superior to any other? Almost any hen house will provide the essentials needed to comfortably house your chickens, but our hen houses also offer a certain sense of style that gives them an aesthetic appeal as well, which most other structures lack. We can create custom chicken coop plans to make it portable, and to allow it to accommodate anywhere between three and 60 birds, so capacity is up to you. In addition to the flexibility of our layout designs, there are many features which are standard on our chicken runs.
First, you can choose from a shingled roof with Tech Shield, or a metal roof with Dubble Bubble insulation to keep your birds protected. Then, you'll appreciate the pine board and batten siding, which is cedar-stained to protect against the elements. The door to the chicken run will have a keyed entry system, and there will also be a chicken door, complete with ramps and entrances. There will also be slider windows with screens installed, to keep each bird accessible, but safe from intrusion.
Benefits of Mobile Chicken Coops
The first benefit, and perhaps the single most important one, is the fact that your mobile chicken coops for sale from Sun Hill Barns are made with all high-quality components that are intended to last for a very long time. That leads right into the second benefit, which is that this high-quality construction is ideal for providing maximum protection and shelter to your valuable chickens.
Since each mobile chicken coop is made specifically for your operation, it will always be the perfect size for housing your birds, and for allowing them to live comfortably, so they remain healthy and content. The outstanding ventilation of each chicken coop for sale contributes to the well-being of the birds and makes them glad to roost in such a favorable environment. All these benefits will make it easier to manage your birds, and the superior craftsmanship will help your coop stand the test of time.
Chicken Coops for Sale in PA, MD, NJ, NY, & DE - Contact Us Today!
Sun Hill Barns has chicken coops for sale that are available to any farmer in the Lower 48 states, and many operations have taken advantage of that fact to purchase our superior chicken house. Our 15 years of experience have helped us become experts at crafting these structures, and the high-quality components we use have always resulted in the best-made chicken coops for sale anywhere. If you'd like to own one of these outstanding chicken houses for your birds, please contact us today, so we can provide you with a free quote, or if you're interested in becoming a dealer of our quality chicken coops, we invite you to submit an inquiry to get the conversation started.