Amish- Built Small Chicken Coops for Sale
Have you been thinking about raising chickens on your property? Whether its for the farm-fresh eggs every morning, or simply for the companionship of an animal, raising a flock of chickens is so rewarding!
Sun Hill Barns has been helping homeowners throughout the eastern US get started raising chickens by offering some of the best small chicken coops for sale on the market. While we have several styles and sizes available, what really sets us apart is our small backyard chicken coop options.
Call today to learn more about how you can acquire your own mini chicken coops!
Contact Us About Our Chicken Coops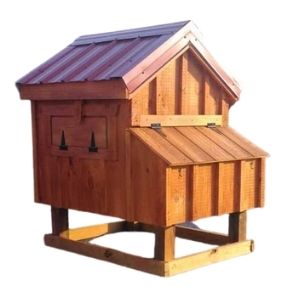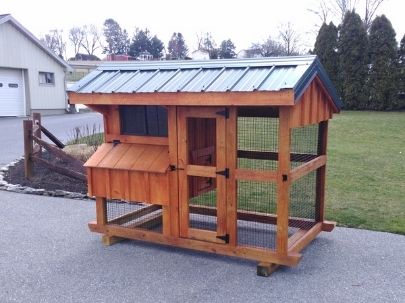 Small Chicken Houses Available in Lancaster PA
Small chicken houses in Lancaster, PA that are of high quality and practical styling are hard to come by. But Sun Hill Barns makes it so much easier!
Our Amish built small chicken houses are unlike anything you've experienced before. Crafted with hardworking Amish ethics and backed by 15+ years of experience, these small chicken coops pack big opportunities.
Although we've been in business for over 15 years, our quality building methods have not been cheapened by modern conveniences - that's right, our construction is done the old fashioned way, with hard work and attention to detail. Every part of our small hen houses for sale are made in the USA, hand-crafted by real people - not machines.
Why do we continue to go above and beyond in production when outsourcing would be much cheaper for us? Simply put, providing Lancaster County with the best small chicken coops for sale is our greatest pleasure!
Perfect-Sized Small Backyard Chicken Coop
Now, even homeowners with a humble sized space can enjoy the pleasures of raising backyard chickens!
Since smaller properties tend to be what is available right now, we have altered our standard chicken coops to accommodate these needs. Because our small backyard chicken coops are specially designed to house only between 3-8 chickens, their footprint is smaller than the standard chicken coop, and take up less room in your yard. Despite being classified as a small backyard chicken coop, these structures still provide more than enough room for all your birds.
Shop all the small chicken coops for sale by Sun Hill Barns by browsing our website. Contact us today for pricing and delivery information!
Questions About Our Small Chicken Coops? Contact Us Today!
Sun Hill Barns happily serves Lancaster, PA with some of the most trusted chicken coops for sale. These trusted coops not only check the box for functionality, but for style as well! No matter if you have a large or small backyard chicken coop, our craftsmen can build something just for you.
Get started today by shopping our online selection of small chicken coops and inquiring about pricing. If you have additional questions or would like to speak with one of our sales representatives, please do not hesitate to reach us via phone or contact form. We're happy to work one-on-one with every customer in order to give a great product and even greater experience!
Contact us today to explore your options with top-quality small chicken coops from Sun Hill Barns.