Horse Barns & Run In Sheds
Amish Horse Barns For Sale
If you are currently searching for a small amish horse barn for sale, look no further than the experienced Amish craftsmen at Sun Hill Barns. We proudly design and build small horse barns and horse run in sheds that are perfect for keeping your steeds comfortable. Our team prides itself on building horse shelters that offer the protection and long-lasting value that you desire. Every one of our small horse barns for sale is built with high quality material and is available in a variety of sizes ranging from 10'x16' to 12'x36'. They can also be made with 29 different gauge metal slides or board and batten. We invite you to browse our site to find the small horse barn or horse run-in-shed that's perfect for you.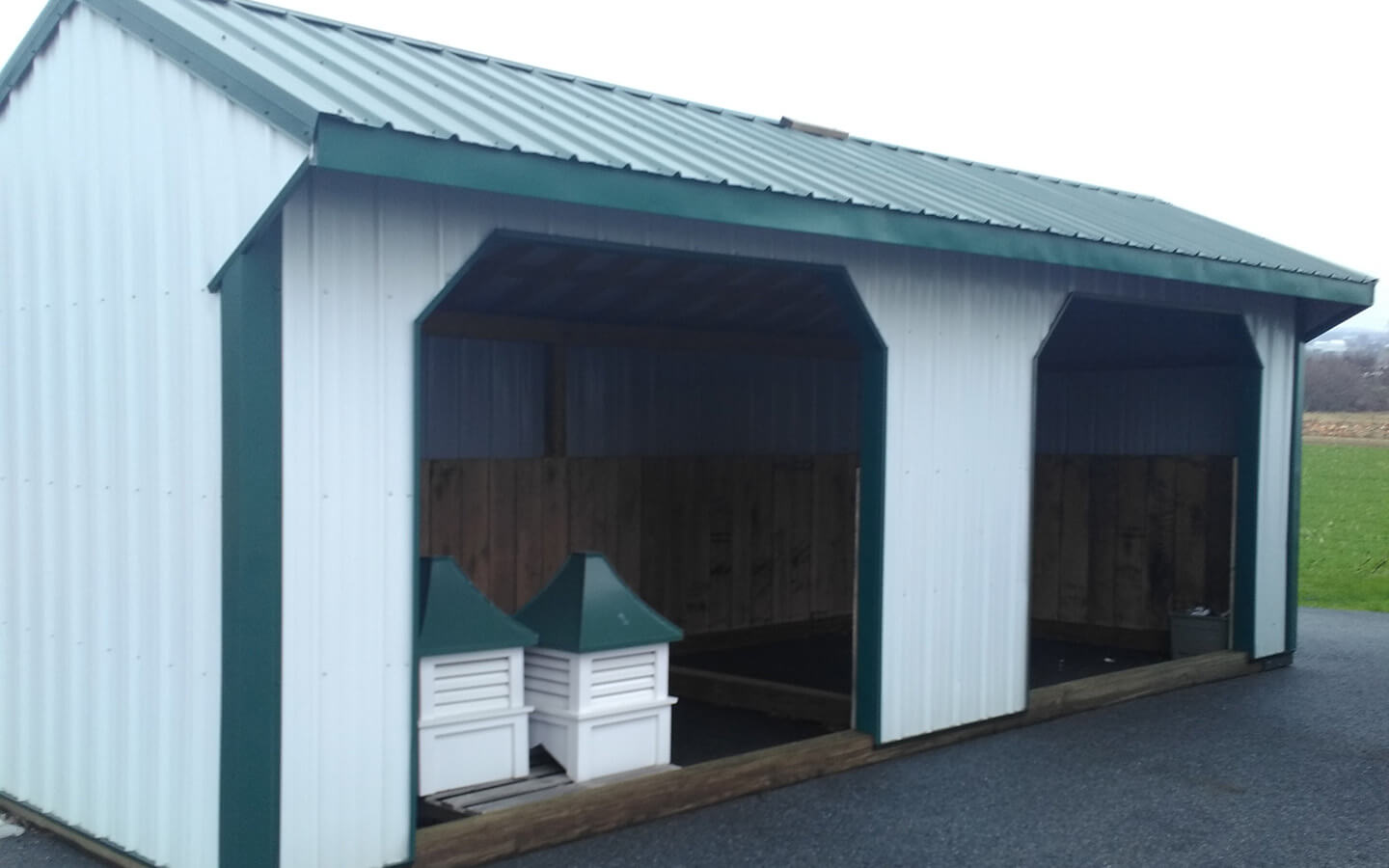 Run-In Shed
10'x32' w/Cedar Stain, 2 10'x12' Run-In & 10'x10' Feed Room
10'x24' Metal Run-In Shed
12'x30' Metal Run-In Shed
10'x28' Metal Run-In Shed w/ 8' Center Feed Room
10'x20' Run-In Shed w/ Metal Roof
10'x16' Run-In Shed w/ T & Groove Kickboard
Contact Us for Run-In Shed Size Options
Shed Row Barn
10'x36' w/ 3 Stalls, 10 Overhang & Metal Sides
10'x36' Horse Barn w/ 2 Stalls & Center Feed Room
10'x18' Metal 1 tall w/ 3 Overhang
10'x24' w/ 2 Stalls, Metal Roof & Drop Vent, Painted White
10'x30' w/ 2 Stalls and Center Feed Room
Check Out Our Shed Row Barn Today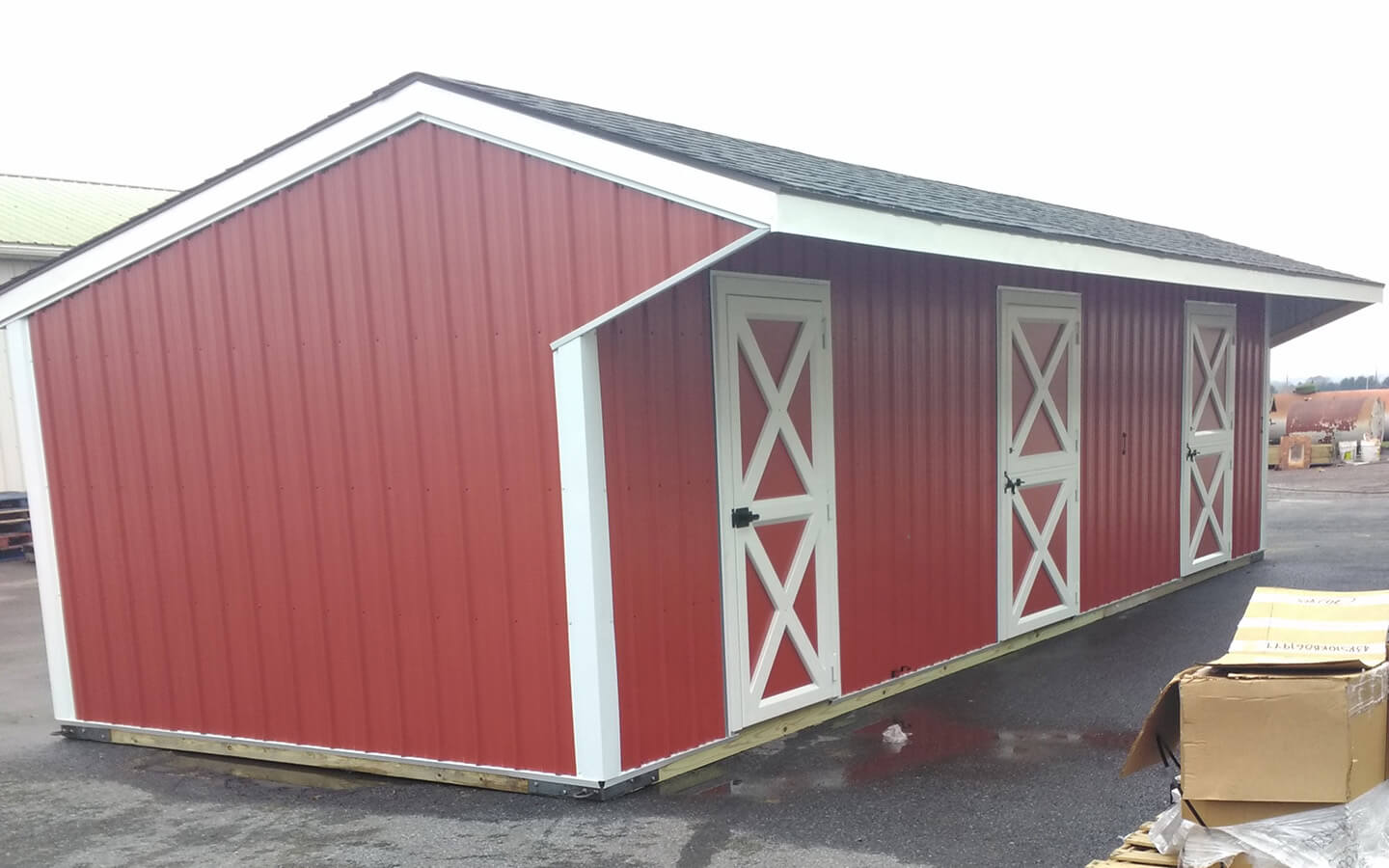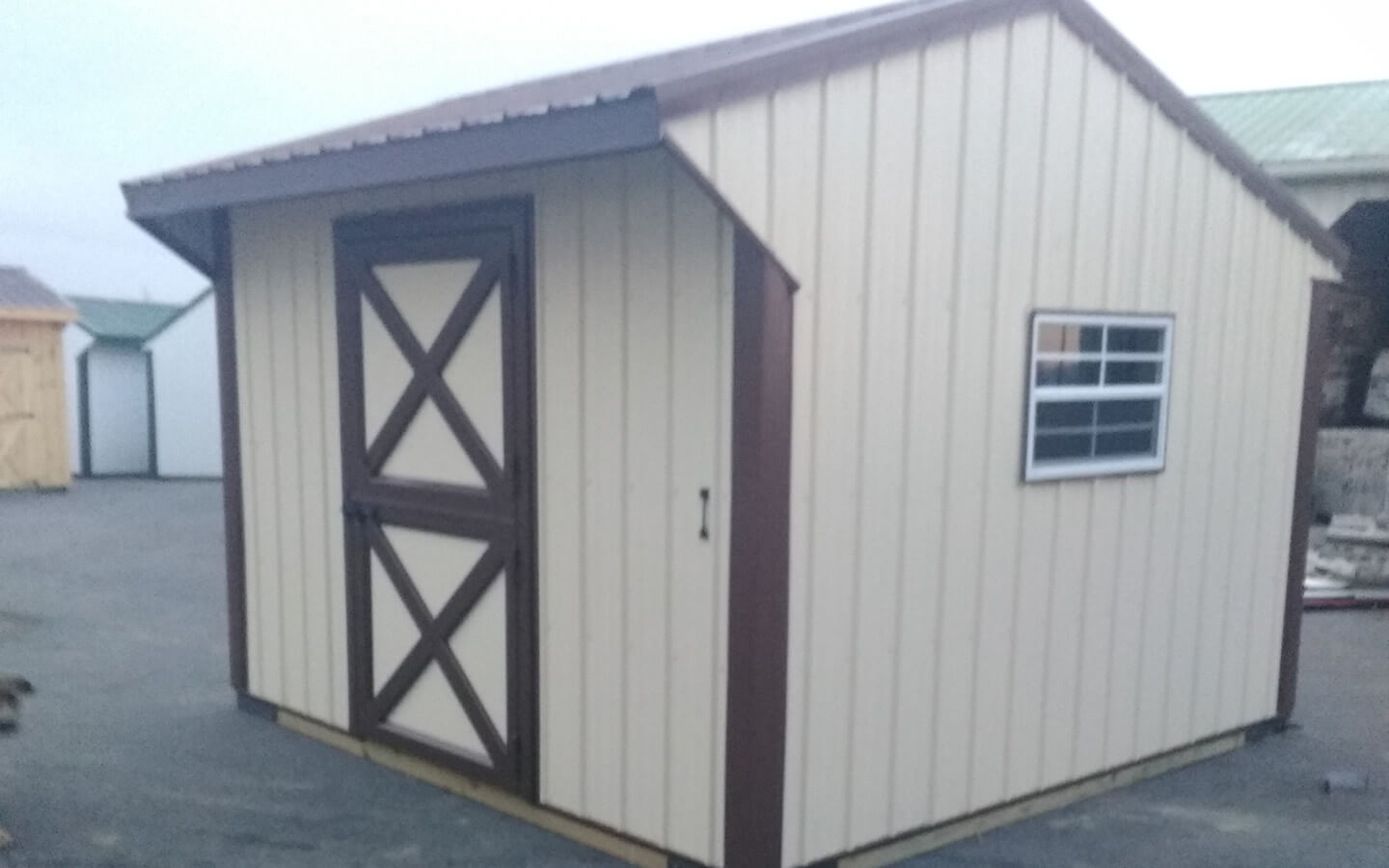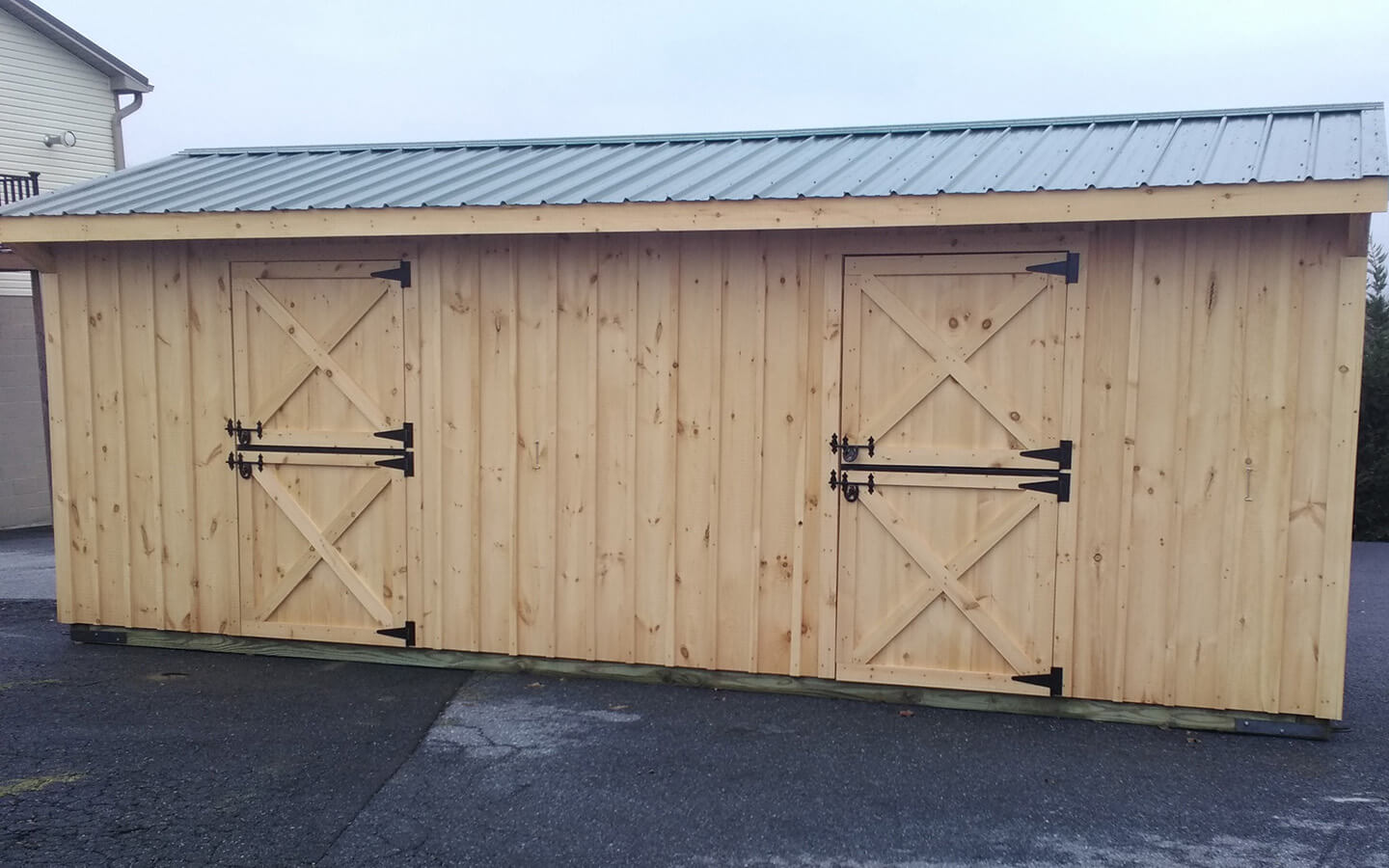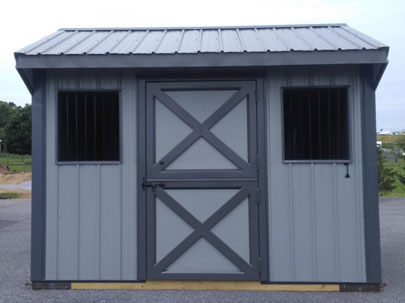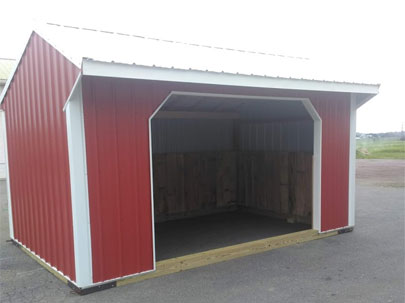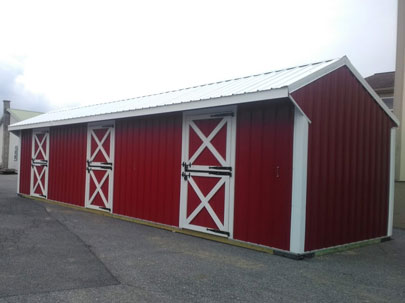 Horse Barn Specifications:
29 Gauge Metal Slides or Board & Batten
Dubble Bubble Insulation under Metal Roof
1 Window Per Stall or Feed Room
Wooden Painted Dutch Doors
4' Oak Kick Board
1 Dutch Door Per Stall
Power Coated Grills in Stall & Feed Room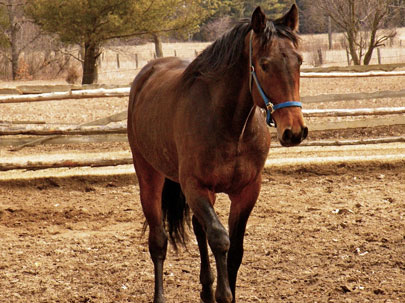 Quality Run In Horse Sheds
When it comes to a quality structure that provides the freedom and ventilation your horses need, a horse run in shed is a great choice. Horse run in sheds are three sided structures that provide horses with the freedom to roam and the shade they need to relax. All horse sheds sold at Sun Hill Barns have been designed and built by experienced Amish craftsmen. Each run in shed is built to the highest standard with quality material and an unmatched level of expertise. Don't miss out on these expertly-crafted sheds from Sun Hill Barns!
We Will Create The Perfect Horse Shelter For You!
Horse owners go to great lengths to ensure that their steeds are well fed and healthy. Whether it's searching for the best feed or supplementation, serious consideration is given to what goes in their horse's body. It then goes without saying that the same level of attention should also be placed on choosing a horse shelter that ensures maximum comfort and safety. Horse shelters play a major role in horse health and should be selected based on the needs of your horses. At Sun Hill Barns, we can work with you to select the ideal horse shelter for your specific situation. We understand the needs of horse owners and are happy to lend our expertise to your horse shelter purchase decision.
Contact Us Today For Your Small Horse Barn Quote!
When it comes to purchasing a small horse barn for sale that provides an impressive level of comfort and safety, Sun Hill Barns is the company to call for all your horse shelter needs. Our small amish horse barns for sale are made in accordance to your preferences and will not only look great but will stand the test of time. Whether you decide on a small horse barn or horse run in shed, we will happily help you choose the best horse shelter for your needs. Contact us today to learn more about our small horse barns and horse run in sheds!