Chicken Coops for Sale - NJ
Quality Chicken Coops for Sale in NJ
If you're a homeowner looking for high quality chicken coops for sale in New Jersey, look no further than the professionals at Sun Hill Barns. We provide New Jersey residents with beautiful chicken coops that not only look great but stand the test of time. Our construction techniques are time tested and have not been cheapened by modern conveniences, ensuring that our chicken coops for sale in New Jersey are the best that money can buy. We invite you to browse our site and discover why countless homeowners have come to us when they've decided to own backyard chickens.
View Chicken Coops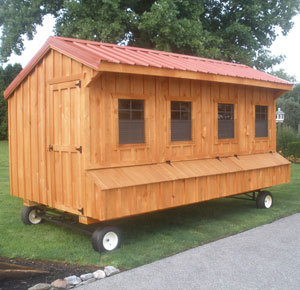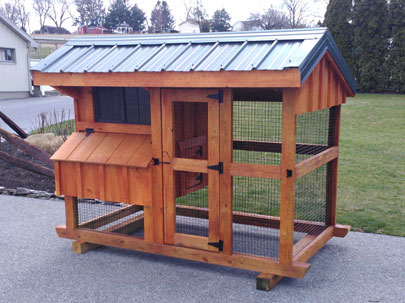 Chicken Coops NJ - The Amish Quality Difference
When it comes to chicken coops in NJ, not all products are created equal. Too often corners are cut on labor and materials with the aim of greater margins and less overhead. At Sun Hill Barns, we aim to produce the best chicken coops in NJ while taking no shortcuts when it comes to creating our high-quality structures. Every one of our chicken coops in NJ was built by a skilled Amish craftsman who takes pride in creating second to none structures that exceed customer expectations.
The Perfect Chicken Coops for Owning Chickens in New Jersey
No longer just a trend for members of the sustainability movement, owning chickens in New Jersey has reached a mainstream audience that understands and embraces its many benefits.
Eggs: Residents that own chickens in New Jersey can enjoy the benefit of the eggs that their birds produce. Homeowners can also improve the quality of eggs by feeding their chickens high quality foods and providing them adequate space to roam around.
Pest Control: Chickens do primarily feed on grains however as natural foragers they frequently make meals of small bugs.
Pets: Many homeowners come to embrace their chickens as they would any household pet. They may initially choose to own chickens for their eggs, however they later come to love them like a second family dog.
Chicken Coops in NJ - Call for a Free Quote!
New Jersey residents looking for high quality chicken coops that are long lasting and of the highest quality can rely on the team at Sun Hill Barns. We've been producing beautiful chicken coops since 2005 and look forward to sharing our expertise and high-quality products with homeowners throughout New Jersey. Contact us today to get the conversation started!
Call For A Free Quote