Chicken Coops for Sale - NY
Amish Made Chicken Coops in NY
You may not think owning an Amish made chicken coop in NY is even a possibility - but Sun Hill Barns is here with great news for you! No matter where in New York you call home, our experienced company is dedicated to helping you achieve chicken farming greatness through long lasting homes for your herd. With over eight gorgeous handmade chicken coop styles available, you won't only be able to accomplish your agricultural dreams but enjoy them!
Click to shop our stunning selection of chicken coops for sale now, or keep reading to learn more about what makes our structures so unique!
Chicken Coops For Sale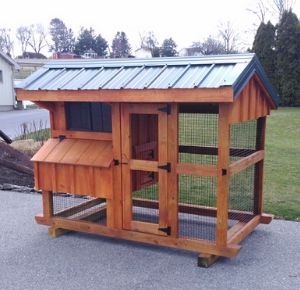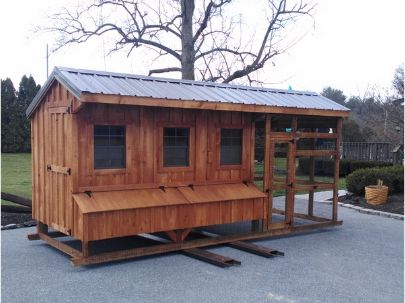 Quality Chicken Coops for Sale in New York
What makes our products the ideal choice for those searching chicken coops for sale in New York? It's their unbeatable materials, extensive lifespan, and unsurpassed customer experience. Being in this space for over 15 years has taught us what a true high-quality chicken coop should look like and function as. When using your Amish made chicken coop firsthand, you'll appreciate the little finishes like superior nesting boxes and well-thought-out ventilation system, that have not been cheapened by modern production.
At Sun Hill Barns, we are proud to offer an American made product hand crafted by real people and not machines. Why do we continue to go the extra mile in production when outsourcing would be much cheaper for us? Because providing Amish made chicken coops in New York is one of our greatest pleasures!
Handmade Chicken Coops that Exceed Expectation
There are so many benefits to raising chickens on your property! From a more eco-friendly environment to a healthier diet, some benefits are easier to spot than others. Here are just a few of the many we personally love sharing with our customers:
Farm fresh eggs every day: People who have enjoyed housing chickens before know that there is no greater meal than their own raised eggs!
Pest control: Although chickens eat mostly grains, they also have a knack for eating bugs from your yard.
Low maintenance pets: With our Amish made chicken coops in NY, raising chickens is easier than ever!
There's never been a better time to invest in a handmade chicken coop if you're considering a new hobby or career in New York!
Chicken Coops in NY - Get Your Free Quote Today!
For 15+ years, Sun Hill Barns has been specializing in chicken coops for sale in New York that not only speak to functionality, but to style. With the extensive selection of chicken coops we've designed, we have everything ranging from cute chicken coops to upscale coops and everything in between. Whether you're looking to add onto your already established chicken raising adventure, or you're just getting started, Sun Hill Barns' Amish made chicken coops in NY are the best investment you could make!
Get started today by browsing and selecting your next favorite chicken coop from Sun Hill Barns and inquiring for a free price quote. If you have questions or would like a handmade chicken coop custom designed, please contact us via our online form!
Contact Us